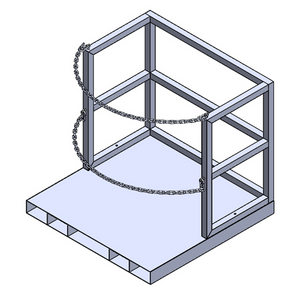 Gas cylinder pallet rack is fabricated out of tube steel 2" x 2"and 11ga thick plate. It can accommodate cylinders up to 33" dia. The cylinders are secured using polypropylene straps and additional chains can be added if required. The pallet is 3" high from the ground and has slots to accommodate standard forks (3"x 7.75") from front and back. Helps comply with OSHA, NFPA 1, NFPA 55, and CGA.
Color:
Gray color readily available in stock, other custom colors offered, please call to check availability.
Lead time:
Product is made-to-order and ships 3-4 weeks from order date.
Cylinder capacity: 21 

x 9" diameter or 4 x 22" diameter

Cylinder diameters supported: 6" - 33"
Steel construction
Powder coated finish
Polypropylene straps and cinch buckle for each cylinder included
Platform height is 3" from ground
Chain sets (optional) can be added for additional support
Meets USGS high seismic hazard zone requirements when installed properly
Overall dimensions: 48" wide x 48" deep x 33" high
Product Weight: 272 lbs.
Made in the USA
Didn't quite find what you were looking for? You need a different color or different dimension?
We're here to help. Please call us at 909-401-2914 or send us an e-mail to sales@karanandassociates.com.